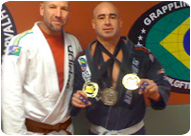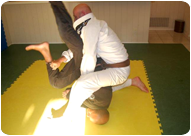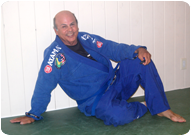 RocknRoll Brazilian Jiu Jitsu Private Lessons
Anyone can learn Brazilian Jiu Jitsu! Men, women and kids of all body types, ages, and athletic ability can learn this gentle but highly effective martial art!
Come train with a Certified Brazilian Jiu Jitsu Master Joe Moreira Black Belt Instructor and National Academy of Sports Medicine Certified Personal Trainer! Whether you want to laarn Brazilian Jiu JItsu for self-defense, for fun, or are a serious compoetitor, RocknRoll Brazilian Jiu Jitsu has a Brazilian Jiu Jitsu program just for you!
RocknRoll Brazilian Jiu Jitsu Private Lesson Programs
All RocknRoll Brazilian Jiu Jitsu Programs include:
Detailed, one-on-one instruction from an experienced, certified Brazilian Jiu Jitsu Black Belt instructor and NASM Personal Trainer!
Cutting edge Brazilian jiu jitsu techniques, drills and exercises as taught to us by legends Rickson Gracie, Rigan Machado, Master Joe Moreira and Master Julio Cesar Pereira!
Experienced instructor and training partner that works around your schedule so you can learn jiu jitsu fast, safely and when you want!
Brazilian Jiu Jitsu Programs customized to your specific goals, pace and ability. Whether its your first day or you are a seasoned jiu jitsu player you will progress fast and safely!

RNRBJJ - Competitor Program
For serious competitors and people who want to train like one. Program includes modern techniques, specific technical drills and exercises to polish the strong points of your game and improve upon problem areas. Let us help prepare you for your next Brazilian Jiu Jitsu tournament!
Call or email for pricing and to schedule your training

RNRBJJ - Technical Flow Program
Technical rolls that refine technique, paths and chaining. Program is designed for intermediate to advanced brazilian jiu jitsu players. MUST have the rank of blue belt or higher to participate and benefit from this highly technical program. Tighten up your jiu jitsu game and self-defense techniques and become more energy efficient!
Call or email for pricing and to schedule your training

RNRBJJ - CrossJits Fitness Program
CrossJits
is a combination of Brazilian Jiu Jitsu movements, plyometrics and crossfit exercises and principles put into one fun and challenging work out program! You will only find
CrossJits
at
RNRBJJ & Fitness
! Gain amazing functional strength, muscle endurance and athletic ability guaranteed. Get fit and lose weight fast!
Call or email for pricing and to schedule your training

RNRBJJ - Self-Defense Program
Self-Defense for men and women and an Anti-Bully Program for kids. Learn proven 'real life' techniques that will protect you and your loved ones. Patient, detailed instruction will help prepare you for the unexpected!
Call or email for pricing and to schedule your training
Best prices in the Orange County for Brazilian Jiu Jitsu Private Lessons! Contact RocknRoll Brazilian Jiu Jitsu and Fitness for more information and to schedule your FREE INTRODUCTORY BRAZILIAN JIU JITSU PRIVATE LESSON and FITNESS EVALUATION!